Start WinUAE and insert your Workbench ADFs, click OK and once Workbench has loaded click the Press F12:
Click the Floppies tab
Click Create Blank "Floppy"
Enter a file name and location to save your new ADF
Press OK to return to Workbench
Now, although you have just created an ADF image it has not been formatted and is therfore not much use as far as saving games goes or using it for any kind of data storage, so what we need to do now is format the disk so:
Press F12
Click the Floppies tab
Click [:] next to DF0: and select your newly created ADF
Press OK to return to Workbench
You will notice another icon on your Workbench desktop, it should look something like:

Indicating that the disk is in drive DF0: and is currently unreadable by Workbench, so now it's time to format the ADF. Click the icon once with your left mouse button, now hold your right mouse button and select Format Disk from the Icons pull down menu at the top of the screen: See the illustration below.
The format program should appear once you have clicked "Format Disk".
Give your disk a label, in this case "ALE TUTORIAL"
Click Format
Click Proceed on the warning message
You do not need to enable any of the other options. Please note that Quick Format is only available to disks/ADFs that have been formatted once before, as this is a new disk the Amiga file system needs to be written in order for it to work. See the illustration below.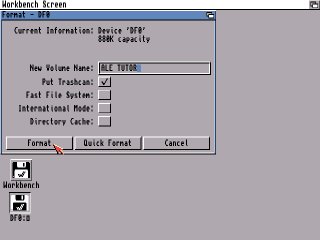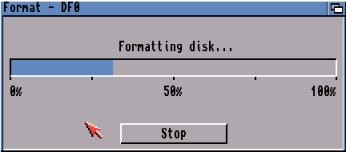 Once this screen reaches 100% you have yourself an empty, formatted ADF.