The first thing you need to do is download ADF Blitzer and transfer it to your Workbench disks, follow these steps:
Unzip ADF Blitzer
Place it on a 720KB blank disk
Load Workbench
Open the SYSTEM folder
Double click Shell/AmigaDOS or CLI (depending on your version of Workbench)
The following window should pop-up:

In this new window type:
This will enable you to read 720KB formatted floppy disks, now insert the disk with ADF Blitzer stored on it and copy it to your Workbench disk. You will also need to copy the ADF image onto a 720KB disk and copy this to your RAM: drive, now before you start - I know that ADF images are over 720KBs in size so you will need to use the PC version of LHA to compress the file and the Amiga version of LHA to uncompress this file on your Amiga.
Click here for details on how to compress files with LHA click here, for details on how to uncompress files with LHA click here. You can use the method above to transfer the file over to your Amiga RAM: drive.
Once all the above is finished the final steps are pretty easy so:
Open the drive or folder you copied ADF Bliter to and double click the file named ADFBLITZER
Insert a blank Amiga Disk and click the button labelled WRITE (see below)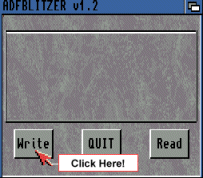 Now on the next screen select your ADF file (RAM drive) and click OK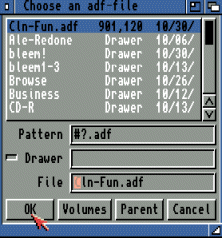 Click OK & That's it! - you have just unpacked your first ADF image.