Download Fellow from the emulators section and copy your kick.rom images into the same folder as Fellow. Now follow these steps:
You will be presented with the following screen: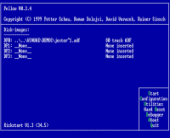 Familiarize yourself with the interface first then follow these steps:
Select configuration (remember to press return to select an item)
Select Memory
Select Kickstart-Image
Locate and select the kick.rom you wish to use
Press ESC to return to the previous menu
Select Sound
Press your left cursor key until you see Normal and then press ESC
Select Disk Images
Press return over DF0: and select your ADF image (you can insert more in the other drives)
Press ESC
Select Screen
Now press LEFT until you reach the resolution you want
Go down to the Y Scaling option
Press LEFT until you see "Hardware VGA Line-Doubling"
Press ESC twice to return to the main screen
Press Start
As fellow is less fussy about configurations your game/demo should start to work without a problem. Please note that Fellow does not run any AGA titles (titles designed for the A1200 only). If you have any problems getting a certain game to work then why not visit Back To The Roots for a listing of known, working configurations.
From this point on you should only have to access the Disk Images option from the Configuration menu as all other settings are saved by Fellow.
I want to use my virtual hard drive image in Fellow (HDF) - no problem, select the Configuration option and then Hardfile, now press return over the HD1: option and locate your HDF image.
How do I return to Fellow once the game/demo has started? - simply hit your ESC button again and you will be back in the Fellow interface.
This should be enough to get you started, good luck and happy memories.