Okay, here is the first way to make a DMS archive, it's pretty simple once you get the hang of it and there is hardly any configuring that needs to be done before you go ahead.
Start WinUAE and insert your Workbench ADF images, click the Hard Drives tab and check "add PC drives at startup", if you have it on a virtual hard drive then select the appropriate configuration. Click OK to start the emulation, once Workbench has loaded double click the Workbench disk and open the System folder now double click Shell or CLI (depending on your version of Windows).
The following window should pop-up:

In this window you will need to copy the DMS executable you downloaded into the C folder of your Workbench disks. You will need to know the drive name for your PC hard drive (usually DH1:) - to find this out just type DHx - remember to replace the x with a number, now type DIR to check which drive you are on.
Type:
Note: DH2 is the drive name of your PC hard drive.
Almost done!, all you need to do now is select the ADF image you would like to convert to a DMS - note if you are doing this on a real Amiga simply insert your real disk in DF0: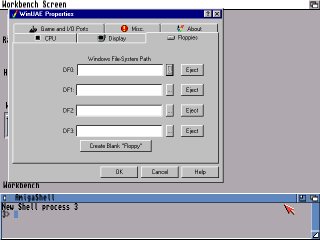 Click the [:] button next to DF0:
Select your ADF image
Click OK to return back to Workbench
In the AmigaShell Window type:
DMS READ DH1:NAMEOFDMS.DMS FROM DF0:
How hit return and return again when ready, the AmigaShell will bring up a message similar to this: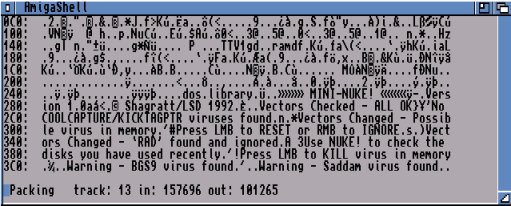 This is perfectly normal, once it has finished you will find a fully working and much smaller DMS file stored on your hard drive ready for distribution.