Open up the casing and also remove the screws that hold your original Floppy Drive in place

Now gently lift out the original disk drive, it should come out easily - if not then check that you have fully removed all of the screws, in some cases it can be hard to spot the screw that holds the drive to the Amiga casing.

Now remove the power cable by lifting the tiny lever (located underneath the cable) and then gently pull out the grey data cable (see above) to remove the disk drive from the casing and board.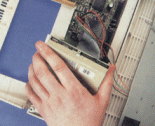 Grab you new floppy disk drive and re-connect the two cables mentioned earlier, screw the drive back in place and last but not least close the Amiga casing and screw it back together. The last thing to do is turn on your Amiga and insert a floppy disk - bingo! it works.