Open up the casing and lift back the keyboard, you may need to disconnect the led's from the main board (just follow the wire from your disk drive and power lights down to the main board and gently pull out the connector).

All you need to do is remove the plastic coated ribbon, hold down the white plastic casing and gently pull the ribon out of the socket.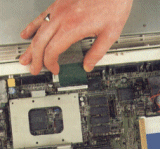 Now simply pull the keyboard out of the case and replace it with your new one, follow the above steps in a backwards fashion to complete your replacement.