Download the WinUAE configurations from this site by clicking here and follow these steps:
Unzip WinUAE configurations into the configurations folder of your WinUAE directory
Make sure you have KICK13.ROM (kickstart 1.3) and KICK30.ROM (kickstart 3.0) in the WinUAE folder
If you have KICK31.ROM rename it to KICK30.ROM
Start WinUAE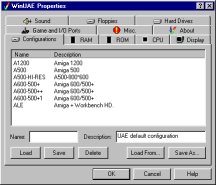 You will notice a set of configurations (the image above is an example), all of the Amiga models have been taken care of and all that remains is for you to:
Select an Amiga configuration (depending on the game/demo)
Click the Floppies Tab
Insert your ADF images into DF0 through to DF3: by clicking the [:] buttons.
Click OK to start
Now, if a game fails to load there are 3 things you should try before posting at the boards:
Try a different configuration
Change the settings on the CPU, Display Chipset and Memory tabs.
Visit Back To The Roots for a configuration for the game you are trying to load.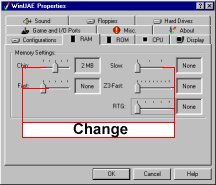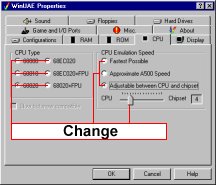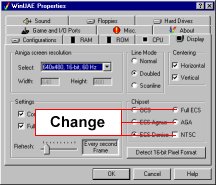 Remember the Amiga is quite complex and as there are many different systems and configurations you should be aware that you will need to play with the settings at some point, always save with a different configuration name and description so that if the problem is worse than before you can go back to the default settings.
Enjoy this superb emulator.