First we are going to load WinUAE and make a new configuration so that we can easily select the HD the next time around, so follow these steps:
Start WinUAE (obviously)
Enter ALE in the Name box
Enter Amiga Plus Workbench HD in the Description box
Your screen should look similar to this: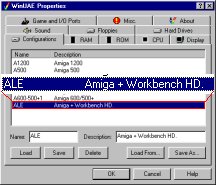 Now click the RAM tab:
Pull the Chip Slider to 8MB
Pull the Slow Slider to 1MB
Your screen should look similar to this: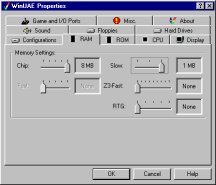 Now click the ROM tab:
Press the [:] button next to ROM
Select either KICK20.ROM or KICK30.ROM
Almost there, now click the CPU tab:
Select 68020 CPU
Pull CPU vs Chipset Slider To 4
Your screen should look similar to this: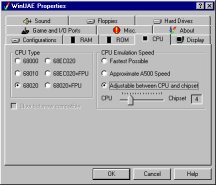 Click the Display tab:
Select 640x480 Amiga Screen Resolution
Correct Aspect & Full Screen Settings
Refresh Every Second Frame
Doubled Line Mode
Horizontal/Vertical Centering
ECS Denise Chipset
If you wanted to emulate an A1200 with HD you would click the AGA chipset but as we want a fast emulated system the ECS Denise is probably the best for the task, now select the Hard Drives tab:
Click Add Hardfile
Enter 28835840 In The Bytes Box
Click Create
Select A Directory To Save Your HDF Into
And bingo you should now see the following on your Hard Drives Tab: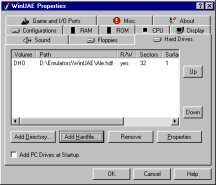 Now make sure you check the "Add PC Drives at Startup" option if you want access to your PC drives and CD-ROM through Workbench & AmigaDOS.
Finally:
Click The Configurations Tab
Click SAVE
Okay, now you have created your Hard Drive once again it has not been formated, so insert your Workbench ADFs via the Floppies tab and click OK to start the emulation. Once you are in Workbench, simply left click the newly created hard drive and hold your right mouse button to select "Format Disk" from the Icons menu at the top of the Workbench screen.
The HD is currently empty and cannot boot on it's own because Workbench is not installed, however this can soon be sorted by following our How To Install Workbench On A HDF tutorial.